The Project
Green Hackfest 2014: For Green Urban Living – FREE TO ENTER AND €13,500 EURO IN PRIZES! The event took place in October 2014 in Utrecht, The Netherlands.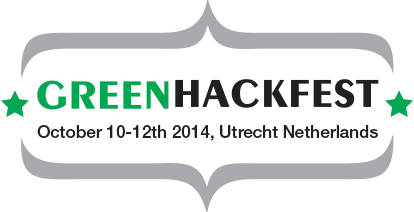 The Pitch
Hacking for Good… bringing together a plethora of different skills and ideas, putting them in a room – create some focus… award winning ideas, meeting great people… Network, hack and show brilliant ideas to people who hold the purse strings to thousands of euro in prize money!
Green Hackfest kicks off in Utrecht on the Netherlands National Day of Sustainability starting Friday, October 10th running through to Sunday October 12th for a full weekend of massive green hacking with the theme of applied sustainability – where coders, developers, designers, entrepreneurs, hardware hackers, UX and UI specialists, scientists and others come together and brainstorm over a couple of days and build out their ideas in a short term innovation event known as The Green Hackfest.
Driven by Europe's Climate Kic, one of the world's largest public-private innovation partnerships focused on climate change and consisting of dynamic companies along with the best academic institutions and the public sector – along with UtrechtINC, a business incubator with an accelerator program… the Green Hackfest 2014 will offer thousands of euro in prizes, three days of hacking, two nights of accomodation at the venue and the opportunity to show work to some of Europe's top players in the Green movement.
It's all about applied sustainability – which is the application of science and innovation to meet human needs while indefinitely preserving the life support systems of the planet. A more refined definition would be called Just Applied Sustainability: the application of science and innovation to ensure a better quality of life for all, now and into the future, in a just and equitable manner, whilst living within the limits of supporting ecosystems.
In this three day (two night) hackathon starting Friday afternoon and running through to Sunday evening (October 10-12, 2014), we are bringing together talented and bright developers to work on inspiring ideas, apps, games & smart solutions that have a direct impact on peoples awareness and/or their daily life and actions to help improve and sustain the living environment and nature.
By tapping into the many APIs and SDKs from Green  technology companies, and more than 100 publicly available APIs, participants of all skill areas will team up to cultivate new ways of solving old problems–brainstorming over two days to build new friendships and networks, and most importantly, design new products and services.
Horizon 2020 Fund and Green Hackfest
In addition to creating great solutions with brilliant people, don't miss this unique opportunity to network with key people from Climate-KIC who hold the purse strings to the billions of euro slated for Green funding from the Horizon 2020 programme. 
Horizon 2020 is the largest government fund for innovation the world has ever seen, with €80 billion available overall.
New Technology and Green
Web and mobile-based devices are becoming increasingly important in tooling humans to better tackle the issues of sustainability. To demonstrate the effectiveness of these technologies, Green Hackfest 2014 will bring together a wide range of bright, enthusiastic people with multiple talents. Together they will use these technologies to address current Green challenges and present the results back to those attending the event.
The Winners
WALKTHROUGH WINS THE GREEN HACKFEST UTRECHT, NETHERLAND 2014
Want to find the greenest and healthiest route to your destination? The Walkthrough app built at Green Hackfest 2014 in Utrecht, Netherlands, October 10-12th helps you choose the best form of transportation based on weather, mode and more! In just 48 hours the Walkthough team put together tight code with the right combination of data and developed an innovative app that incentivises and rewards users for taking the greenest route and form of transportation. The winning developers built an app to entice you to be more mobile by walking and biking more making use of real-time data.
There were fourteen innovative product ideas and applications built for the Green Urban Living challenge with €13,500 euro in cash prizes give out to six teams.
Besides Walkthrough, that the prize for best overall hack (€ 3,000), six other teams have won challenges with their applications in the field of green urban living. Each with a specific approach and price. For the Lombox challenge to build a new application for charging stations for electric cars, team Electree was rewarded with a prize of € 1,000. Oneplanetcrowd gave Givv.it €2000 to reward their app which personified the true essence of crowdfunding efforts with gamification for sustainable projects.
Prizes and winners
Best overall Hack Green – € 3000: Walkthrough Intelligent Travel
Oneplanetcrowd crowdfunding challenge – € 2000: Givv.it
IBM Bluemix challenge – € 2,500: Take Give
Ebbits challenge, the green factory 1st prize – € 2,500: Phylipsen
Ebbits challenge, the green factory 2nd prize – € 1,000: HMIke Greenbelt
Ebbits challenge, the green factory 3rd Prize – € 500: Green Hacktory
Bikenomics challenge – € 1000: Mindful Meerkats
Visualizing Sustainability – € 1000: Electree