The Project
Hackathon for Health @ World Research and Innovation Congress took place in June 2014 in Brussels, Belgium and was run over two days during the daytime hours.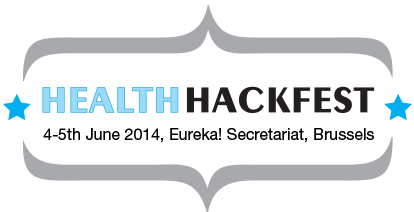 The Pitch

Network, meet, hack and show your brilliant ideas to people who hold Horizon 2020 purse strings to over €10 billion!
The first Health Hackfest 2014 is happening on 4-5 June as part of the prestigious World Research and Innovation Congress for Health in Brussels. This Hackfest is an amazing opportunity for both sponsors and participants to learn and build networks with the organisations and people empowered to deliver massive investments to health innovation in Europe over the next six years.
IBM is introducing their brilliant new enterprise-grade app development toolset called Bluemix, which is now open to third party developers under a new Beta Programme. They will also be talking about the future of Watson in the Benelux.
The Health Hackfest 2014 is a 2-day hackathon for software developers, hardware hackers, designers, researchers, entrepreneurs, business developers and healthcare professionals wanting to have a positive impact on the future of healthcare. Our objective is to provide a forum to create solutions and inventions, empowering those with brilliant ideas to take on exciting challenges and drive innovation in health.
By tapping into the many APIs and SDKs from health technology companies, and more than 100 publicly available APIs, participants of all skill areas will team up to cultivate new ways of solving old problems–brainstorming over two days to build new friendships and networks, and most importantly, design new products and services.
Horizon 2020 Fund and WRIC for Health
In addition to creating great solutions with brilliant people, don't miss this unique opportunity to network with key people who hold the purse strings to the €10+ billion slated for health funding from the Horizon 2020 programme. These people will be attending the parallel event on the same days and in the same venue – World Research and Innovation Congress for Health. And many of them will be a part of our adjoining Health Hackfest!
Horizon 2020 is the largest government fund for innovation the world has ever seen, with €80 billion available overall. One of the core principles of Horizon 2020 is to include subject-matter experts, so this is the perfect opportunity for all involved to learn and build new relationships.
The bulk of the €10+ billion reserved for health is targeted for software and hardware solutions rather than drug research–recognizing that technology plays a pivotal role in the new Horizon 2020 framework.
The Horizon 2020 program is a global fund and people and companies from outside the EU can apply. This is a brilliant opportunity for app developers interested in health.
New Technology and Health
Web and mobile-based devices are becoming increasingly important in diagnosis and treatment where a doctor is not immediately available. To demonstrate the effectiveness of these technologies, Health Hackfest 2014 will bring together a wide range of bright, enthusiastic people with multiple talents. Together they will use these technologies to address current health care challenges and present the results back to those attending the event.
For more details on health hackathons please read these two excellent articles:

"Are Hackathons the Future of Medical Innovation? A new way to think about progress in health care", by Brian Palmer at Slate Online and another strong piece by Sam Welch from Publicis called "Inspiration from Health Hackathons".
This novel initiative is supported by W3C (The World Wide Web Consortium) who are currently working on semantic web standards, data storage and sharing.
The Winners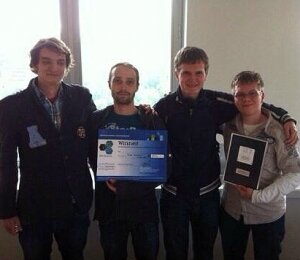 The winner of the Health Hackfest 2014 held June 4-5 in Brussels was Health Hack HU – a health application which indicates whether a person who takes certain drugs is allowed to eat certain types of food. It was developed by Wouter Benninga, Sebastiaan Vendrik, Robin Timmermans, Thomas Spiegelenberg and Karim Anmiri, a group of our third year Computer Science students from HU University of Applied Sciences Utrecht, who specialize in Advanced Software Engineering.
The runner-up was Foodie, developed by Friedger Müffke and Kiruwka Moklyuk which was an application for Android and Google Glass that helps people find out quickly whether to buy a product or not.