Why do companies get behind and sponsor Hackathons?
Here are some questions…
Do you have a brilliant API or SDK and are you looking to build a developer community?
Do you want to tap into new potential human resource talent?
Are you looking for smart solutions/ideas to fund or incorporate into your own business?
Are you looking to widen your corporate social responsibility programme by getting involved in social innovation?
Do you want to explore the concept of outsourcing your innovation in the future?
Do you want to kickstart your R&D team into action with some new ideas?
Do you want to associate your brand with a cool new movement that is chock full of Millennials?
That's why.
Why do organisations and other event companies want to add Hackathons to their portfolio of events?
Event formats are getting 'tired'. Same old exhibitions with same old conferences with the same old people, talking about the same old things. Hackathons offer a dynamic atmosphere where innovation is practiced in real time… conventions run in an unconventional way!
The awards function and ceremonies with pitch sessions offer a great addition to any event format – that is spectator friendly fora all attendees and partners.
Other sources of revenue. Hackathons can be a great addon to your existing sales proposition or as a standalone sponsorship product. We at Hackitarians have worked with over 50 brands and organisations as sponsors (see below).
The spectacle – hackathons can offer a great buzz to an event as they are full of people using scrum and agile methodology with sticky post-its and marker boards full of plans… and code is being cut all the time.
Do you want to reach out and engage Millennials and the younger generation who are not present en masse' at your events or organisation? Hackathons are part of their culture not ours.
Why do innovators and developers like to attend our Hackathons?
Because we are longtime hackers and understand hacker culture and take good care of the attendees.
Because sitting around a dorm room at university or at home is full of distractions whereas hackathons are all about focus and getting things done.
Because the opportunity to present to a jury full of decision makers is a great opportunity to get your talent in front of influential people who are paying attention.
Because it's great to meet new people who share your interests. And meet people who come from different sectors, cultures and have different skillsets.
Because we don't do Pizza and Red Bull, we do Fresh Food and great European Beer (as well as fresh juices, real coffee, and mineral water).
Because they just want to build cool stuff.
Because it's a great way to win some cash on the weekend (we have delivered up to 16,500 euro in cash prizes at our events).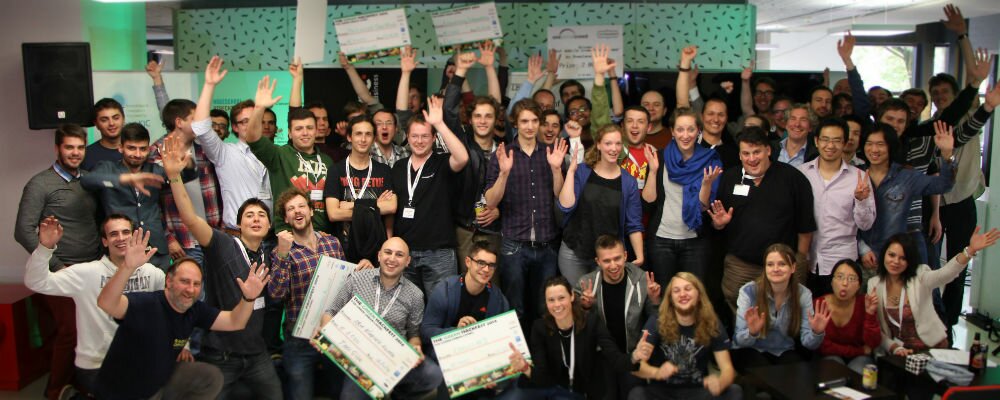 What Exactly is a Hackathon?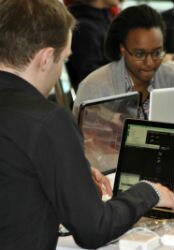 Wikipedia has an excellent description here. But in short, a hackathon is where coders, developers, designers, entrepreneurs, hardware hackers, UX and UI specialists, scientists and others come together and brainstorm over a couple of days and build out their ideas in a short term gamified innovation event known as the Hackathon.
The core objective of a hackathon organiser like us at the Hackitarians is to provide a forum to help create solutions and inventions, empowering those with brilliant ideas to take on exciting challenges and drive innovation.
By tapping into APIs and SDKs from technology and content companies, as well as publicly available APIs, participants of all skill areas can team up to cultivate new ways of solving old problems — brainstorming over a few days to build new friendships and networks, and most importantly, design new products and services.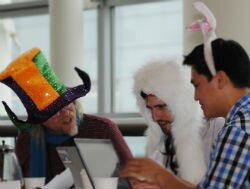 Internet and mobile-based devices and software are becoming increasingly important offering new tools to allow people and corporations to improve quality of life. To demonstrate the effectiveness of these technologies, hackathons bring together a wide range of bright, enthusiastic people with multiple talents. Together they use these technologies to address current challenges and present the results back to those attending the event.
By creating a short-term brainstorming event that brings together groups of people from various professions to work together in driving innovation in a juried contest, hackathons use game mechanics to reward the best ideas with prizes — setting the stage for development of projects into the future.
Key Benefits of Hackathon Partnerships
Hackathons provide all partners with a simple table top area within the hack room to showcase APIs and SDKs, and allow for one or two roll-up banners.
Hackathons give sponsors the opportunity to build networks with innovative thinkers from the technology space – developers, designers, entrepreneurs and others who have game-changing ideas.
Hackathons give sponsors key opportunities to network with funding sources, some of whom are on the jury.
Food and beverages are provided for all involved at hackathons.
Partners are promoted through the event websites, event partner sites, social media, channels and publishing sites.
Partners can showcase their APIs and SDKs to leading developers and creatives > expanding your developer community and building brand awareness.
Partners can give their product evangelists and tech team direct contact with hackathon participants to share and collaborate with their APIs and SDKs.
Extend your networking beyond just the hackathon audience but also be able to capture critical business connections in other parts of the business network, including entrepreneurs, investors, producers, writers, and other creatives.
Sponsorship includes demonstration time to show your programme or problem than needs solving.
Have your brand associated with a thought-leading and creative industry platform.
Be seen as an innovative leading brand.
Some of our previous Hackathons partners include: